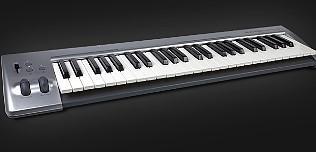 Looking for the best midi keyboard or music keyboard for your daw home recording studio in 2020?
The way a midi DAW system works, soundware or sampler software is used in conjunction with your main DAW software. When keys are struck on your midi keyboard, it triggers sounds from your computer software. For example, if you load up a drum kit into your sampler software, drum beats play when you hit the midi keyboard keys.
Lower down on the page, we also have keyboards and workstations that have their own sounds on board.
Also, unless you're a concert pianist, a 49 key keyboard should be big enough to do just about everything you need. More keys just add to the price. A 25 or less key keyboard may be too small for music arranging. But its portability is nice and it's good for working on drum parts, bass lines, synth melodies, etc.
BEST KEYBOARD MIDI CONTROLLER PICKS
88 Key - Keyboard Midi Controller
$999 Roland A-88 USB MIDI Keyboard Controller
Roland's A-88 controller features an Ivory Feel G keyboard with realistic escapement.
61 Key - Keyboard Midi Controller
$359.98 Novation Impulse 61 USB/MIDI Keyboard Controller
Medium sized keyboard equipped with 61 ultra-responsive keys.
49 Key - Keyboard Midi Controller
$99 M-Audio KeyRig 49 II 49-Key USB MIDI Controller
If you don't need weighted/responsive keys, this is all you need. Good quality keyboard at a great price!
25 Key - Keyboard Midi Controller
$99 Novation Launchkey 25-Key Mini Compact Instrument and USB MIDI Controller Keyboard for iPad, Mac and PC
Nice portable keyboard. Comes with drum pads, above your keys, to tap out your beats or drum patterns. I use one every week!
BEST PERFORMANCE SYNTHS KEYBOARD PICKS
$699.99 Korg X50 61-Key Synthesizer Keyboard7.90 Korg X50 61-Key Synthesizer Keyboard
Small in size but big on sound, the Korg X50 features the same synthesis system as the legendary Triton but in a compact, portable keyboard.
$699 Yamaha MX61 61-Key Synthesizer
Get the sounds of the world-famous MOTIF workstation without the weight and cost with this affordable and compact synthesizer from Yamaha.
$399 Korg microKorg Analog Modeled Synth/Vocoder
Huge analog-style synth sounds pour forth from the tiny, 5-pound microKORG, with an on-board vocoder and 8-step arpeggiator to get you rocking retro-style.
BEST KEYBOARD WORK STATION PICK
$2,599 Korg Pa3X Arranger Workstation Keyboard
Choose 61 or 76 keys on Korg's flagship arranger keyboard, with 400+ styles, TC-Helicon VoiceLive vocal processing, and flexible MP3/MIDI crossfade playback.
{article 163}[layout]{/article}