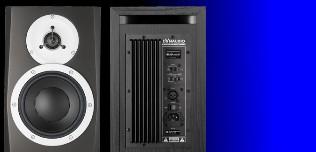 Looking for the best studio monitor speakers for your DAW home recording studio in 2020?
The are quite a few choices when it comes to studio monitor speakers. This article will help you choose the best set for your needs.
The choices are active or passive speakers. Active powered speakers have amps built-in that boost the volume of your music signal. Passive speakers do not and require a separate amp. I personally like using active speakers. No amp needed.

If your setup is in an average sized room, 100 watts is plenty. You'll even do well with 75-watt speakers. 100-watt speakers will blast out 120 decibels at half volume.
Under 90 decibels is the recommended monitoring level for your initial mixing and mastering. 105 decibels is the max you should go to prevent hearing loss.
Note: Monitor at 105 decibels or higher for only short periods of time, under 30 minutes a day, to prevent hearing loss. And not a continuous 30 minutes!! Take a break, at least, every 5 minutes when monitoring at high volume levels.
BEST ACTIVE STUDIO MONITORS
Below are a few different speaker sets that will work very well.
$899 (Each) Dynaudio BM6A MKII (My personal favorites)
$299.95 Behringer B1030A Truth Active Monitor
---
BEST ACTIVE SUB-WOOFER
When using 6-8 inch near field monitor speakers, it is an absolute MUST to have a decent sub woofer. Monitors this size give out very little bass. 50hz is non-existent, and 100hz is very weak. You'll be lost when mixing your low frequency instruments. A nice sub woofer will compliment the speakers above and allow you to hear every frequency range in your music.
$399.00 KRK K10S Active Subwoofer
---
BEST AUDIO & MONITOR CONTROL SYSTEM
If your speakers are connected to your audio interface, then you'll have to use the DAW software on your computer to control the volume. With the Presonus Central Station, you can connect up to three different sets of speakers and control the volume with wired remote. This unit allows you to quickly scroll through different sets of speakers with the touch of a button. You can also connect a cd player, iPod, etc. to the system. It's a complete audio and speaker control system. Very nice!
Note - In addition to the good speakers, pro sound engineers like to connect a cheaper set of speakers to the system, to hear what the music will sound like to the average listener (since most don't have $1,000 speakers).
{article 164}[layout]{/article}