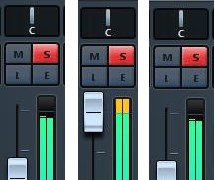 Correctly setting your mixing levels before mastering is essential for great mastering results. Having the best DB levels for mixing is critical. Here's how to properly do it!
Note - Whether you need to know how set mixing levels in fl studio, pro tools, audacity, garageband, cubase, logic or abeleton the information provided applies to all of these programs.

VIDEO - Setting Your Mixing Levels Before Mastering
How To Set Mixing Levels
Each channel on your mixer board has a level meter for the individual vocal and instrument tracks you've recorded. You also have a main/stereo out that has a level meter for ALL the tracks combined. The mixing levels for each instrument should NEVER go over 0 level, and your mixing levels on your main/stereo out should never go over 0 level.
There's really no need to because overall volume boosts are done in mastering NOT mixing! And, most of the time going over-level means instant distortion on the track.
The photos below are level meters from two different guitar track. Guitar Track 1 peaks a few dbs under 0 level and is great. Guitar Track 2 is several dbs OVER 0 level and will badly distort.
The fix - Simply pull down the fader on Guitar track 2 a few dbs so it's no longer over-level!! This is VERY basic stuff here, but you'd be surprised how many sound engineers out there don't know this!
| | |
| --- | --- |
| Guitar Track 1 | Guitar Track 2 |
| | |
| Under 0 Level | WAY Over-Level!! |
What If You Need To Make A Track Louder, But Can't Without Going Over-Level?
This is a VERY common problem with sound engineers who are new to mixing. They need to make one track louder to cut through the mixing, but in doing so, it goes way over-level.
Here's the simple solution!
Highlight ALL the tracks in your mix and link them all together.

Then pull down the faders (roughly -5db) on ALL of the tracks in the entire song.

Now unlink them.
Every track is now at least -5db below 0 level, if not more. Now you can start raising the volume on the tracks that need it.
Note: If you run into this exact same problem again, you can keep repeating this process until you have a nice track to track volume balance. Read more....
How To Set Mixing Levels And Know They're Good For Mastering
Usually, if you don't go over-level on any of your individual mixer board channels you automatically won't go over-level on your main/stereo out. And your levels will be perfect for mastering, leaving enough headroom. BUT, if the main/stereo out meter is over-level and you didn't go over-level on any of the individual channels, simply pull the fader down a few dbs until it isn't.
"Overall volume level is adjusted in MASTERING, not in MIXING. Your job in mixing is to stay under 0 level on all of your meters. Don't crank up your faders and distort everything, trying to get as loud as the songs on the radio! It doesn't work that way!"
And Of Course, If You Want Your Songs To Sound AMAZING!
Check out my low Online Mastering Prices. Incredible results at an affordable price!


So How Should My .Wav Files Look If I Have Correctly Set My Mixing Levels Before Mastering?
Export your mix, and then import it back into your DAW program so you can see how your .wav file looks.
The examples below show how your .wav files should (and shouldn't) look. If yours looks like photo Wav 5 or Wav 6, don't even waste your time and upload it! The song basically cannot be mastered. Start reading this article from the top and adjust your levels!
Wav 1.
This file is -6db under 0 level. A little low, but I can work with this in mastering.

Wav 2.
This file is -3db under 0 level. The is "industry standard," what mastering engineers request.
This is the ideal amount of headroom for mastering.
Wav 3.
This file peaks at exactly 0db. It doesn't go over-level and there are no flat spots. Still good!

Wav 4.
This file is +3db over 0 level. All the flat spots are distortion. I can master this and it will
sound much "better" but in most cases it won't sound "great!" Lower your levels!

Wav 5.
This file is +6db over-level! Completely distorted from beginning to end!
I can't do ANYTHING with this file! NO ONE CAN!! Remix this MUCH LOWER!

Wav 6.
This is an interesting file. It's completely distorted with no dynamic range, but its
still -3db on the main/stereo out.
.

The mixer either:
A. Had something similar to Wav 5 above and just gained the file down -9db.
B. Some or all of the individual mixer channels are over-level, and the master/stereo out fader was
pulled down -9db.
Either way, this can't be mastered with good results. Once your song is over-level and distorted you can't just lower the volume of the entire song. You're just making the distortion quieter, not less intense.
For example - This would be like having a sweater with a huge hole, and then washing it in real hot water to try and shrink it. Yes, you effectively made the hole smaller because now the entire sweater is smaller. BUT, you still have an unusable sweater with a big hole in it!! You didn't solve the problem!
Properly setting your mixing levels before mastering is a very important part of the mixing process. I hope this article explained it for you!
If you've made it this far, you pretty much know how to set you mixing levels properly. Now you need to know how to MASTER your own music properly. Read more....